Increase your revenue by keeping your guests comfortable and warm for longer with ! You can easily extend the amount of time guests spend outside on your terrace. With Stoov®'s outdoor heated seating cushions guests can keep themselves comfortably warm for hours. With the Set6 you'll be able to charge 6 cushions at once.
See all pads
Set 6
Regular price

(excl. VAT)
See all pads
Volume discounts
We offer the following discounts*:
5% - 10 products or more
10% - 20 products or more
15% - 50 products or more
17.5% - 100 products or more
20% - 200 products or more

*This will automatically be added in your cart drawer. Please fill in this form for more information or special requests.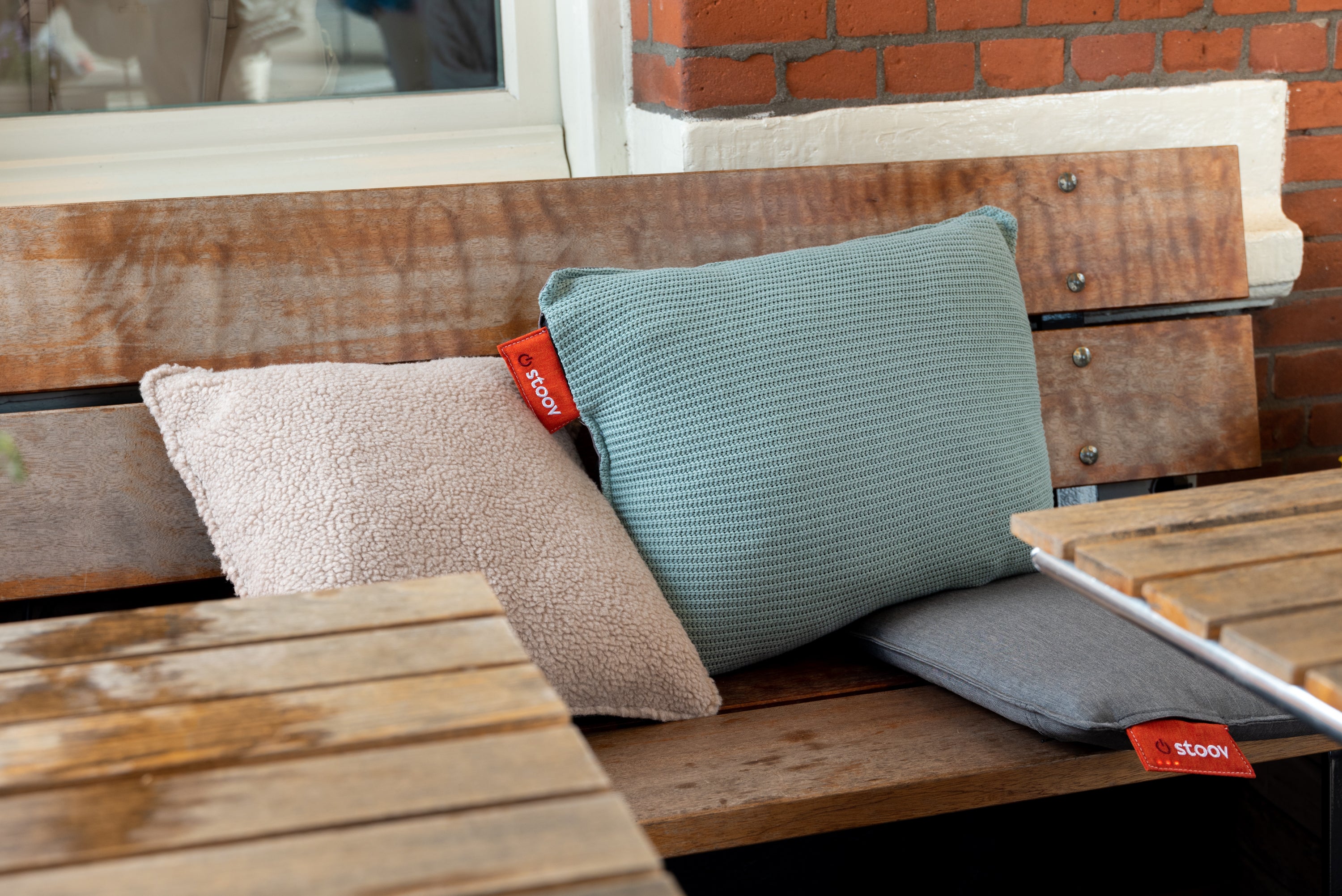 Saving energy with Stoov®
Significantly lower your energy costs with our heating products. A Stoov® heating product is up to 21 times cheaper than the usage of gas heaters during the winter! How? Read more about it below.
Read more
Lengthen your terrace season
Let your guests enjoy their stay on your terrace. By offering warmth to your guests, you can lengthen the time they spend on your terrace. Research shows that you'll increase your revenue with 15-20%! Take a look at our Big Hug products to start the heating.
All Big Hugs
All Big Hugs
Subsidies municipalities
The municipality of Utrecht and the province of Overijssel have recently set aside funds for entrepreneurs that incentivise business owners to conduct business in a more sustainable fashion.

Have you recently been informed about a subsidy or do you have any questions? Do not hesitate to contact us!
Sustainable terrace heating with Stoov®
Are you prepping your terrace for the colder summer days and nights? Stoov® durable heating cushions are the solution. They heat your guests directly instead of the air around them.
Heating cushions
Stoov® locations
See below where you can enjoy a delicious heating cushion near you. If you want to join the Stoov® family, let us know!
Get in touch
Want to know more or get in touch with our B2B heating expert? Laura is happy to help you and show you how our products work.
FAQ's
Our normal battery consumes 30 wH to charge, with the current energy prices that works out at 1.7 cents per charge. If you charge your cushion or blanket once every day, it will cost an average of €6.21 per year.
Yes, our products are safe to use and comply with all safety standards. We take your safety very seriously. That is why every product is equipped with an overheating protection thermostat. The thermostat will temporarily turn off the heat generation when the actual temperature in the heating element becomes too high. This will prevent your Stoov® from running at too high temperatures.Every Stoov® also has an Auto-off function, which turns the product off automatically after 8 hours of use.Although our products are tested. We do not recommend people with a pacemaker or pregnant women to use our products. The appliance must also not be used by people insensitive to heat and vulnerable persons who are unable to react to overheating such as small children. When in doubt, please contact a medical specialist to be sure.
This depends on the product you have, the surrounding temperatures, the warmth level and the battery. A Stoov® could give you up to 5 hrs of warmth. Please check the product page of your preferred product for more details.
A heated outdoor patio lets guests stay longer outside and therefore consume more, the outdoor & indoor capacity can be utilised at its maximum.Traditional heating options such as gas heaters are not ideal in terms of heating, energy consumption, cost and utilisation of already limited square metres. They give warmth to the air instead of guests directly which makes it a sustainable choice. Stoov® offers a healthy, efficient alternative which is less of an investment than traditional terrace heaters (electrical, natural gas, butan gas).If you use a traditional heater in the five winter months, during 4 hours a day. And you warm 6 people per heater. You could make the following calculation:Energy cost of 6 Stoov® cushions: €16,56 Energy cost of electric heater: €780,00Energy cost of gas heater: €1113,00
Wireless
Your personal heating buddy whenever needed
Save energy
Every degree lower on your thermostat saves 7% energy
30 days return policy
Experience our infrared heating yourself